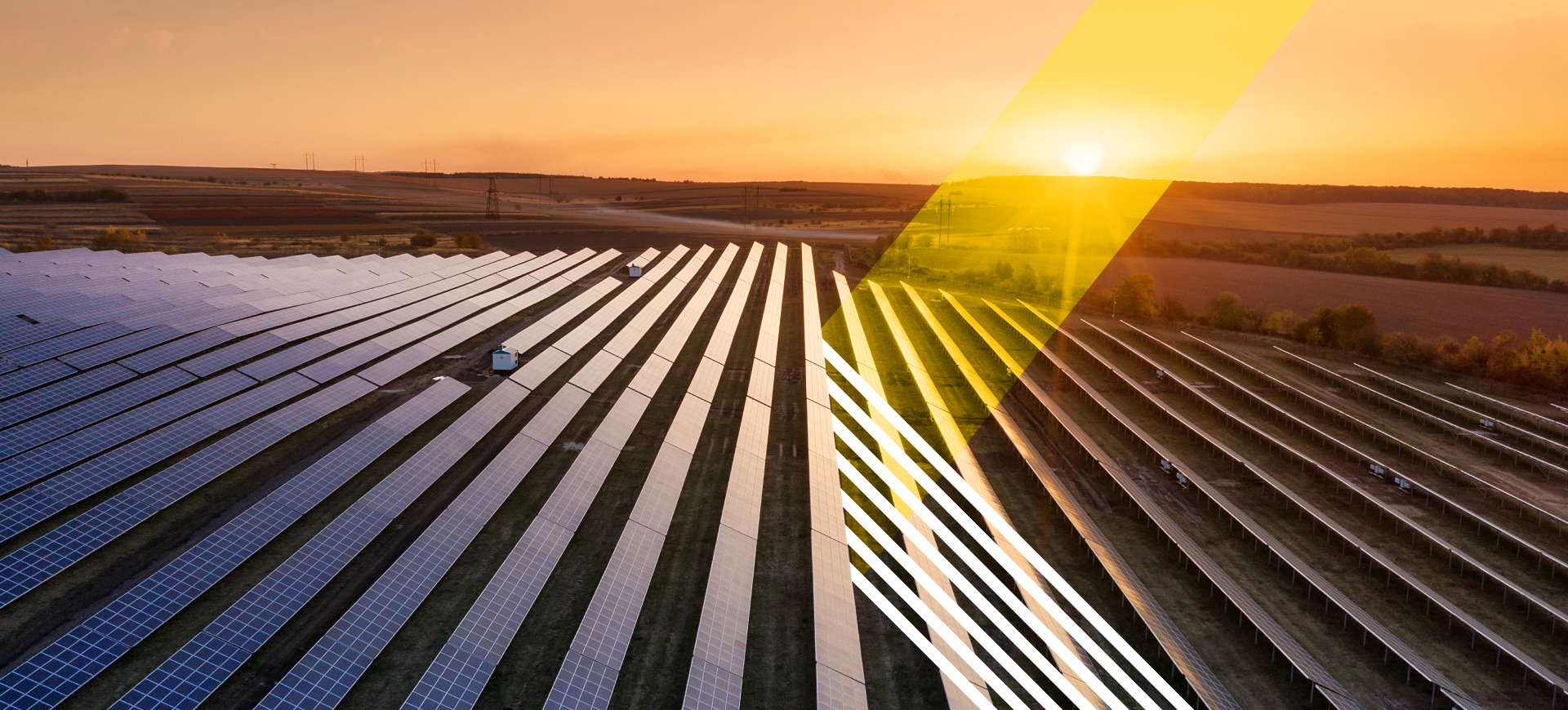 Harnessing the power of solar energy to support valuable green hydrogen production
The BrightNight Orchard Renewable Power Project
Clean renewable power with a big impact
The BrightNight Orchard Renewable Power Project combines the best in renewable power innovation to deliver broad economic and environmental value to the community in Yuma County, Arizona. Our project will feature solar energy generation (i.e. "solar farm") co-located with a green hydrogen facility. BrightNight specializes in the development, construction, and operation of renewable power, such as solar and wind combined with battery energy storage. We've partnered with Plug Power, a global leader in green hydrogen production, to help make this project a reality. Together, we look forward to joining the Yuma community, meeting our future neighbors and colleagues, and learning how we can support the region's growth and sustainability goals.
Up to 300-megawatts

Clean renewable solar power

More than $750M

Private infrastructure investment

30 metric tons per day

Green hydrogen production

$60M

Local and state property tax revenue

More than 60

Full-time, permanent jobs

More than $50M

Paid to the ASLD K-12 Educational Trust

250-300

Jobs created during construction

545 million hours

Safe, reliable operations by Plug Power

Over 98% reduction

In water consumption compared to current use
Página web en español
Conoce más sobre nuestro proyecto.
Future site of the Orchard Renewable Power Project
In order to deliver the power generated by the Orchard Renewable Power Project, we have proposed the construction of a 9-mile long, 230kV Generation Intertie Transmission Line. The proposed location of the project, route of the gen-tie, and the connection point at the existing Orchard substation are shown on the map below.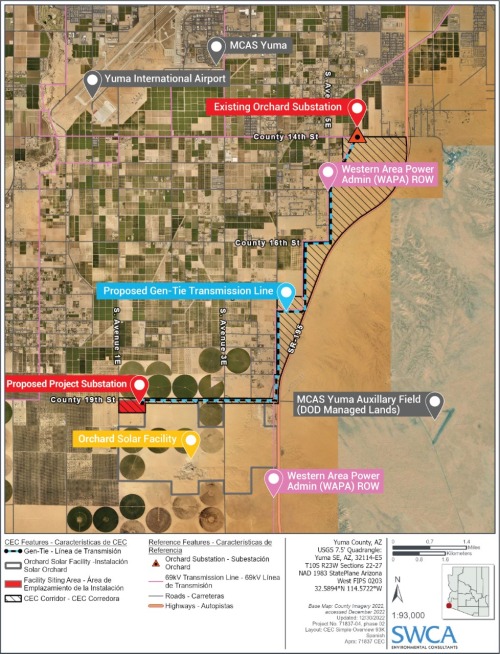 Project Events & Documents
January 30 – February 2 – Certificate of Environmental Compatibility (CEC) Line-Siting Hearings will take place. Public comment period will take place on Jan 30 at 5:30PM at the Yuma Holiday Inn (1901 E 18th St, Yuma, AZ, 85365, US). See call-in information below.
Generation Transmission Line  Notice of Hearing 
Application for a Certificate of Environmental Compatibility  for the Orchard Renewable Power 230 kV Transmission Line Project
Generation Transmission Line Hearing Pre-Filing Transcript
Prehearing Conference – Arizona Power Plant and Transmission Line Siting Committee
CEC Line-Siting Hearing Dial-In + Video Link
If you would like to listen and/or participate in the Orchard Renewable Power Project's CEC Line-Siting Hearing beginning January 30, but are unable to join in person, please refer to the call-in and video information below.
Watch the public CEC Line-Siting Hearing on the Orchard Renewable Power Project (no participation)
Topic: Orchard Solar CEC Hearing – Public Comment Period
Time: Jan 30, 2023 05:30 PM Arizona
Join Zoom Meeting
https://us06web.zoom.us/j/83782260973
Meeting ID: 837 8226 0973
One tap mobile
+17207072699,,83782260973# US (Denver)
+12532050468,,83782260973# US
Dial by your location
+1 720 707 2699 US (Denver)
+1 253 205 0468 US
+1 253 215 8782 US (Tacoma)
+1 346 248 7799 US (Houston)
+1 669 444 9171 US
+1 719 359 4580 US
+1 564 217 2000 US
+1 646 558 8656 US (New York)
+1 646 931 3860 US
+1 689 278 1000 US
+1 301 715 8592 US (Washington DC)
+1 305 224 1968 US
+1 309 205 3325 US
+1 312 626 6799 US (Chicago)
+1 360 209 5623 US
+1 386 347 5053 US
+1 507 473 4847 US
Meeting ID: 837 8226 0973
Watch the Orchard Renewable Power Project CEC Line-Siting Hearing Public Comment Period
January 30 at 5:30 PM (no participation)
Invitation to Submit Public Comment
To submit a formal comment ahead of the CEC Line Siting Hearing, please direct an email to: orchardsolarcec@swca.com
Project FAQs
Thanks to exciting renewable energy adoption across the United States, most people are familiar with the benefits of solar power. But how it's developed, constructed, and paired with other sources like green hydrogen is complex. We've compiled a few FAQs to help address your questions.
Talk to the team!
We're working to introduce ourselves to local leaders, business owners, and residents. If you'd like to chat with us over the phone or schedule a time to meet with us in person, please contact a member of the Orchard Renewable Power Project team.
Contact

Erik Ellis

Vice President of Development

Contact

Brandon Pollpeter

Director of Development

Contact

Maribeth Sawchuk

Vice President of Communications